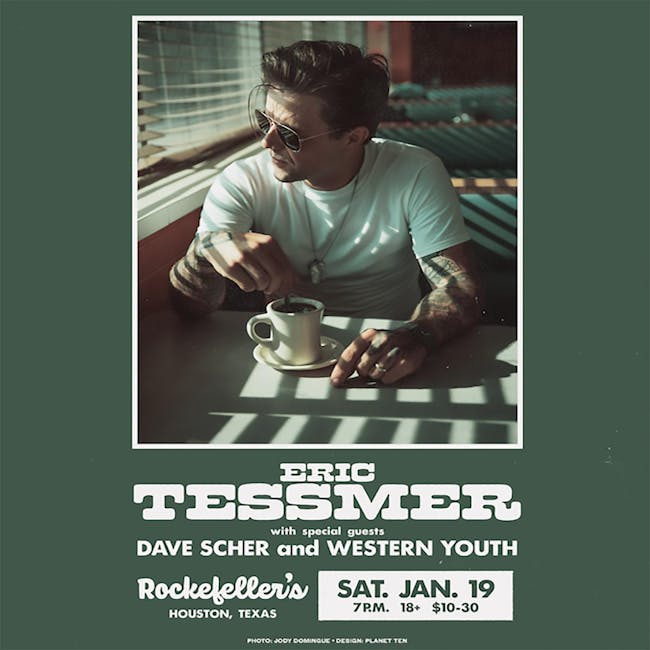 Eric Tessmer
$10.00 - $30.00
Sales Ended
A special evening featuring one of Austin's top performers and songwriters , Eric Tessmer w/ special guests Western Youth and Dave Scher
Another HIGH ENERGY Eric Tessmer Show with some great friends at Rockefellers Houston.
Special guests include Dave Scher and Western Youth from AUSTIN TX
Brought to you by Rockefellers, CLEAN CAUSE , GHS STRINGS, & Rare Clover Artist Management.
Dave Scher:
Austin's own Dave Scher is a current staple in the Texas live music scene. Working as a sideman for various independent artists and many different cover/function bands, Dave is involved every waking day in the performance of his own or someone else's music. He has released 2 full length albums of his own material and has been performing his music around the Austin metroplex for several years now, both as a singer/songwriter and as a guitar slinger. Catch his name-sake trio, or a solo acoustic performance of Dave's at a venue near you! See both outfits; they're each their own independent show-stopper!
Western Youth:
Five years in the making, Western Youth's first full-length album has finally arrived. The band has done a lot of growing up since then, seeing its members through the life changes that accompany waxing youth - weddings, babies, careers, settling down, starting over.
The self-titled album is colored by these changes, touching on unfulfilled dreams, honest and flawed relationships, an uncertain world - shot through with glimpses of light streaming in through the cracks.
The result of all this is an evolved but still defiant Western Youth - introspective and poetic, but full of piss and vinegar, a unique sound that staggers artfully between rock n' roll, folk, americana, and something, well, more grown up.
Venue Information:
Rockefellers Houston
3620 Washington Ave
Houston, TX, 77007